In the Enneagram world, we refer to the Head Types 5,6, and 7 as the Fear Types, which they are. It is also true that fear is a universal response to real (or perceived) threats.
As a Six, the core Fear Type on the Enneagram model, I actually get a little reactive when I hear the statement, "You are fearful, you must be a Six." It is true that you aren't a Six unless you are intimately familiar with fear, but don't we all feel fear at times if we are being real with ourselves. I guess there may be some enlightened folks who have transcended the experience of fear, but I don't know any. Although I know some individuals might believe that fear is a thing of their past, I doubt that's 100% true. I believe fear will arise for anyone if faced with the right situation, but I also believe fear shows up differently for different people.
Of course, it is possible to work with our fears, whatever they may be, and there are certainly great lessons to be found in exploring them. I do know I have a very different relationship to my own fears then I used to. From my experience in working with my fears and the fears of others, I realize that awareness is always a critical first step.
For a couple of months, I've been pondering the questions, "How does fear usually show itself in different Enneagram types" and "What are the specific 'fear' patterns within different types?" So, I was contemplating the territory of fear while getting my hair done in the middle of a pandemic and scrolling through my Kindle account. Randomly, the book The Enneagram of Passions and Virtues by Sandra Maitri caught my eye, and I thought, "Let me see what she has to report on the Six Passion of Fear and Virtue of Courage." That led me to a passage I have bulleted below:
If we are afraid of creating conflict by making ourselves or our needs too obvious, it is likely that we are a Nine.
If we are afraid that there is something fundamentally wrong with us or that who we are is not enough or good enough, it is likely that we are a One.
If we are afraid of rejection, being needy, and of not being loved, it is likely we are a Two.
If we are afraid of failure, it is likely we are a Three.
If we are afraid of being abandoned, of our sadness, and of feeling lost, it is likely we are a Four.
If we are afraid of entanglements and of losing what we have, it is likely we are a Five.
If we are afraid of boredom, of grunt work, and of being exposed as a charlatan, it is likely we are a Seven.
If we are afraid of being weak and not being in charge or on top of things, it is likely we are an Eight.
If, on the other hand, we are simply afraid of everything and everyone to one degree or another, if fear itself in a nameless, faceless way is the driving force of our psyche, then it is likely that we are a Six.

She goes on to say, "Likewise, the life arena around which our fear is based is that associated with our instinctual subtypes." But that is a topic for another day.
Call me if you want to chat about this as I remain curious about our fear patterns and it would be great to hear how you relate to Sandra's writing on the subject. I do love this book, so grab it if you can. It's so worth the read.
If you are new to the Enneagram, we have a free Introduction to the Enneagram Webinar next Monday, July 13, 7pm Eastern, and we invite you and your friends join us. The registration link is below.
One day, may we all be free from fear – until then, be well and stay courageous!
Mary Anne Wampler
PRINCIPAL, TRANSFORM INC.
---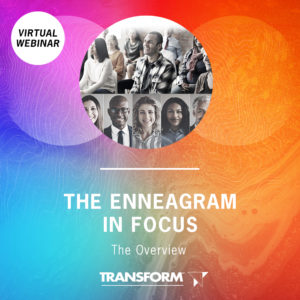 Discover the power of the Narrative Enneagram, a remarkable approach that helps you successfully navigate through life's ups and downs.
Join Theresa Gale, a nationally recognized Enneagram teacher and co-owner of Transform, Inc., for a guided exploration of the Enneagram on Monday, July 13th at 7:00 PM (EDT).
This session is an OVERVIEW of the 9 Enneagram Types and will provide an orientation of the system and summary of each Type's core motivation, automatic actions and ingrained patterns of thoughts, feelings and behaviors.
If you are new to the Enneagram or want to deepen your understanding, this overview is for you!