I last checked in with you about your 2017 goals in March. Well, today is July 10th which means—gasp—the year is over 50% finished! Summer, sweet summer, already seems to be sliding fast into the past while vacations, concerts, family time, beach, books & cookouts are still on our minds, or at least on mine.
If you completed your Ultimate Guide to 2017 goal setting book, now is the perfect time to dust it off and evaluate if you are on target, whether you are truly charting your own course, or following someone else's path, or perhaps a little bit of both. I recall, not so fondly, years ago someone saying to me, "You are either working your plan or someone else's." Oftentimes, I lose track of what's important to me because I'm giving all my attention to helping everyone else's visions come true. Because I so love doing that, I can fade into the background in my own life, forget to focus on my own goals and intentions.
I encourage you to embrace the slower-paced energy of summer, pause to revisit your dreams, re-evaluate your progress, and make desired revisions needed to script the next chapter of your life!
They say it's a good thing to share your vision…so, here it is. I'm sharing my 2017 Vision Board with all of you. It reminds me of what I'm passionate about, at least for now. I hope seeing it will help remind you of what you're passionate about, too!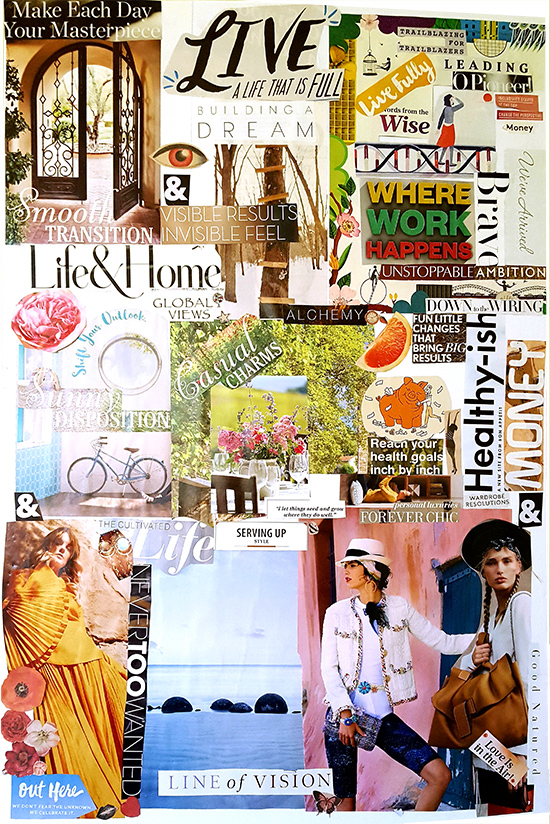 Happy Summer,
Mary Anne
Save