It's that time of year again when college graduates seek employment in the workplace and companies work to integrate this new talent into their organizations. If you are seeking to hire this new talent pool into your workplace, a recent study on what matters most to Millennials as they look for employment might be of interest to you.
A survey* was conducted by Peak Sales Recruiting of recent college graduates. They asked respondents to rank 21 items from most important to least important when considering a job opportunity. Here's what they found. The top 5 items (refer to the chart) were: Work/Life Balance, Promotion Opportunities, Meaningful Work, Job Stability and Fun Work Culture.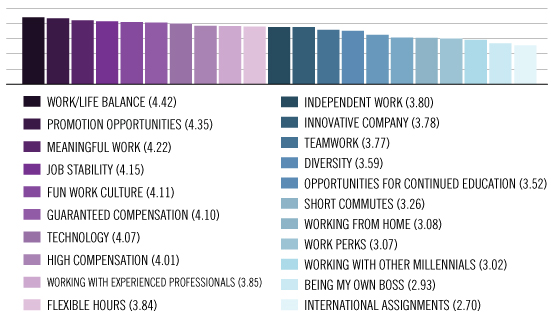 I don't know about you, but these results don't surprise me. Most employees we work with, regardless of what generation they are in, want these top five items. But here's where it gets interesting. Millennials' responses to questions about their communication, location and motivational preferences offer some insights into how the workplace may need to change to adapt to this new talent pool, estimated to comprise 85 million workers in today's workforce. The first result, communication preferences, is the good news. Despite being one of the most technologically-savvy groups of individuals, 73% of Millennials prefer face-to-face communication. That runs contrary to the naysayers who proclaim that each generation is less and less interested in human contact.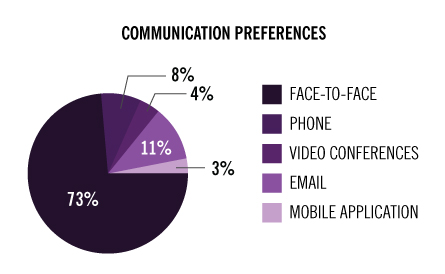 The next result, Millennial location preference, suggests that this talent pool seeks to reshape the workplace from the traditional 9-5 desk job. 68% of respondents indicated that they want more flexible work options – a mix of at the office, at home, and on-the-go options.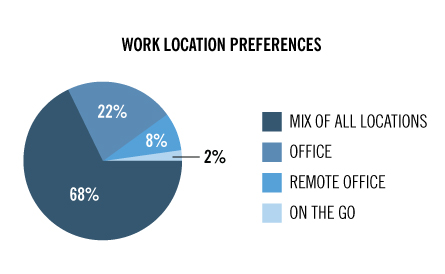 Lastly, there isn't agreement from respondents when asked to identify their biggest motivator to go above and beyond when completing a work assignment. Results show a varied response – 45% will go above and beyond for additional compensation, 35% if promotional opportunities are present, and 16% if bonus time off is given.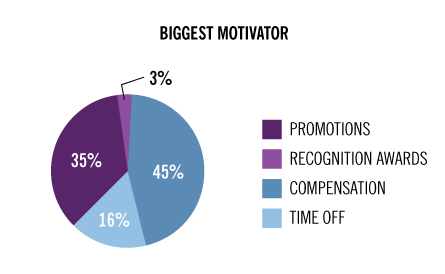 What do these results have to do with attracting and retaining Millennials? I think there are a few things to remember. First, don't categorize any candidate as having a specific set of beliefs. Rather, be curious and make sure your interviewing questions explore what type of work environment will unleash a candidate's potential, what situations/environments motivate and demotivate him/her, how the individual best learns new things and adapts to a new environment, and how he/she defines a "great" workplace. Forget about asking if a candidate has a 5-year plan. Instead, explore what opportunities he/she wants to have in the next year to two years.
Second, be sure to have a clearly defined onboarding and training plan for new hires. Don't assume anything about what a new hire knows and doesn't know. I say this because much too often a manager will be dismayed by a new hire's attire, professionalism (or lack of it), or office, work or communication habits. Assumptions that may not be valid include: "anyone knows that you speak with an inside voice when working in cubicles," "when speaking with clients you don't use acronyms or slang," and "texting while talking with another employee is rude," just to name a few. State the obvious, be explicit, and teach new hires the basics of being a successful employee in your work environment. They will thank you later.
Third, be sure constantly to seek input from Millennials. They have strong opinions. They want to be heard, and the survey shows that they want to engage face-to-face with others. I was recently coaching a 28-year-old Marketing Manager, and she talked about how she has had to overcome the perception that she is too young to have an opinion, even though her instincts are often right on. Ask, listen to, and incorporate this younger perspective into decisions. You may not always agree or decide to take their input or ideas, but just the fact you asked and included them in a decision process is empowering and motivational to them.
Lastly, it is time to shed the belief that all work must be done in the office and that employees need to be "watched" to ensure productivity and performance. Granted, there are some positions where working in the office is a must, but many positions can be performed anywhere or any time. Once an employee has demonstrated a strong work ethic, the ability to work independently, and has met performance expectations, permitting some level of flexibility in how and when he/she gets work done will communicate a level of trust that goes a long way toward creating engaged, productive employees of any generation.
Take some time this week to assess your relationship and interactions with the Millennials on your team and in your company. Try a few of these suggestions and let us know how it goes. If you are encountering specific challenges, give us a call and we'll help you work through them.
By Theresa Gale,
PRINCIPAL, TRANSFORM, INC.
*Millennials in the Workplace Survey performed by Peak Sales Recruiting, Inc.