In recent conversations with leadership teams, I have been asked how to keep employees engaged and motivated, especially when most of the team members are working remotely. Here are a few tips I've shared with our clients:
1. If you are the President or CEO, schedule small (3-5) face-to-face (virtual/in person) meetings with employees.
Create a rotating schedule so that every employee meets at least once with you between now and the end of the year. In this meeting, do a check-in with the small group and ask questions like, "What work are you doing that is energizing you?" "What have we done this year, since COVID-19, that has kept you engaged with your team members?" "What more can we do?" "What have you done that you think we could do company-wide?" These conversations have a two-fold purpose: first, your taking the time to meet with each employee sends a message that you want to stay connected and their input is valued, and two, it is your opportunity to assess the "state of the employee." Is s/he engaged, motivated, focused, feeling supported? Because we can't see an employee day in and day out, many are struggling with no outlet for expressing and dealing with what is going on for them personally and professionally. You will need to show up ready to listen, not fix but gather input, and ask questions that reconnect and engage them with you and the company.
2. Department Heads, Supervisors and Team Leaders should do the same as the President/CEO.
You may be checking in with your employees on what they are doing, but this check-in's purpose is not to talk about work, rather it is to talk about the employee.
3. I hear from employees how much they miss the interactions with their colleagues.
They miss the impromptu interactions while getting coffee in the morning, stopping by someone's desk and hearing about a weekend adventure, and having lunch in person and catching up with a friend. A suggestion I have is to schedule 30-minute connect meetings for employees. This may take a little work, but create random groupings of employees (3-4) who are scheduled for a 30-minute virtual meeting to have coffee or a meal together. This pairs employees with some they don't know and builds their internal network while keeping them connected to those in the organization. If you do this monthly, you can have a theme for each month or a contest for best idea in response to a specific question – making the time together fun and focused, or you can just schedule the groups and let them do their own thing.
As we turn the corner into September, our psyches are oriented to transitioning into a new season. Use this time to shake things up a bit and bring some new ideas and activities into your company. While we may be stuck with virtual meetings, they don't have to be all the same! Be creative, seek to find ways to reconnect and reengage employees and have some fun.
As always, we are here to help you brainstorm ideas and activities. Don't hesitate to call us.
---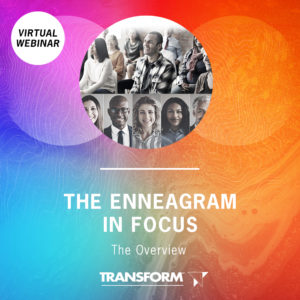 MARK YOUR CALENDARS!
Discover the personal, relational, and professional insights revealed by exploring the Enneagram.
Want more out of life? Ready to understand yourself on a deeper level while you begin to understand others as they actually are to themselves? For an overview of the Enneagram's life-changing personality model, join nationally-recognized Enneagram experts Mary Anne Wampler and Theresa Gale, co-owners of Transform, Inc., on Monday, September 28 at 7:00 PM (EDT).
This free orientation to the Enneagram system includes a summary of each Type's core motivation, automatic actions, and ingrained patterns of thoughts, feelings and behaviors.
Whether you are new to the Enneagram or just want to deepen your understanding, this overview is for you!